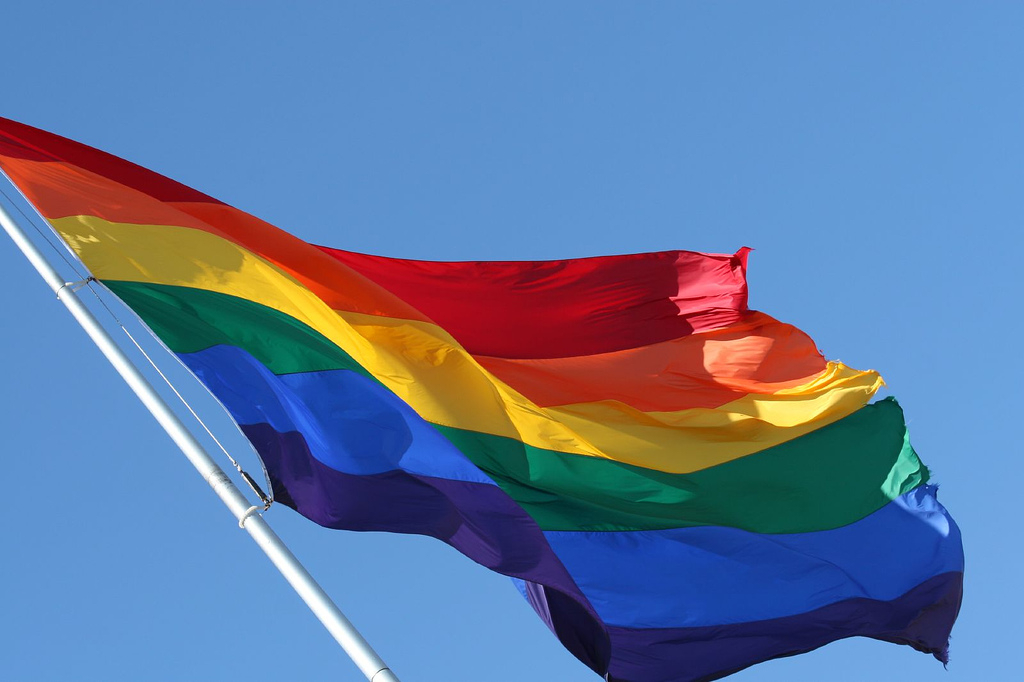 I love DC — the sights, the culture, the history, the metropolitan lifestyle, how everyone minds their own business, and how they don't give a shit what's in your shopping cart at the grocery store.  What I especially love about this city is the overall acceptance of individual lifestyles.  Highly urbanized areas (at least in the United States) are often considered a safe haven for the gay, lesbian, bisexual, and trans-gender community to live their lives openly.  Although you will come across some level of ridicule no matter where you are, DC tends to exercise more liberal practices than, say, the last place I had resided in (Jackson, Mississippi).  I've spent a good deal of my life in bigger cities, so when we moved to Washington seven months ago, it was a relief to be surrounded again by a community of cultural variance, background, and lifestyle.  There's a saying around here that the DC metro area is highly composed of "transplants", meaning many of us originate in different places.  So we are used to being exposed to a whole different variety of people.  It's similar to New York City in that respect (although I think there's a higher percentage of NYC natives than those who are native to DC).
The beauty of a diversity-supported living environment is that individuals in the gay, lesbian, bisexual and transgender community are more likely to be accepted, and less likely to keep it a deep dark secret.
The beauty of a diversity-supported living environment (which are often more prominent in highly urbanized areas) is that individuals in the gay, lesbian, bisexual and transgender community are more likely to be accepted, and less likely to keep their sexual orientation a deep dark secret.  It is not uncommon nowadays to hear of junior-high school kids coming out. It's the kind of life my father would have loved — in which he could have avoided living the first 55 years in a sexual orientation identity crisis. But back the 1940s and 1950s in Salt Lake City, Utah, the idea that someone could be gay was virtually unheard of.   As a result, my Dad was under a lot of pressure to think, act, and conform to the identity of a straight man.  It wasn't until 10 years ago that he developed the courage to unmask himself from that conformity.  Obviously, the differences in sexual attraction led to my parents' divorce — but at least it was amicable, and it was for the better.   Even though I often wonder if he had grown up in an environment where he felt okay to come out (let's say, by his teen years) whether he would have married my Mom and my brother and I would have been born, I am incredibly happy that he is finally able to live by his true identity.  I could not have a more amazing individual in my life to have as a Dad.
I don't want to leave my Mom out of the picture, though. She's an incredible parent as well, but since we're talking about the LGBT community, we'll continue our focus on that for now.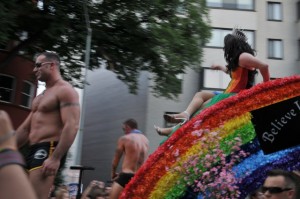 This week was Capital Pride in DC.  An overwhelming variety of events, dance parties, and celebrity appearances were scheduled.  Since I am such a big supporter of the LGBT community, I was determined to make it to at least one event out of my busy week schedule, so I decided to attend the Capitol Pride Parade.  Upon arriving in Dupont Circle, you could feel the happiness, the sense of pride dominating the crowd-filled streets.  Everyone there was in a positive mood.  I could easily attend something like this everyday just to get my recommended daily turbo-charge of  "elation" vibes.  Oh yes, and I must mention there were a whole lot of rainbow-colored flags, leis, beads, outfits… you get the idea.
As the drag queens, cowboy dancers, politicians, advocacy groups, and other participants proceeded down the parade route, a thought entertained my head: what if, one day, a group or organization of LGBTs with autism (or disabilities in general) marched in that parade?
My idea to network a group of individuals who are autistic and LGBT is not a new one.  I have had this "club-dancing" in my head for a while.  Because of my interest in the gay community as well as the autism community, it always excites me to meet an individual who is both autistic and gay, because I learn about what it was like for him or her to live both those lives and how he or she perceives the world.  The more of those individuals I meet, the more I become educated about the autism/LGBT combo.  Even though there is certainly evidence of such, the ones I get to meet in person are far and few, and the vast majority I am able to locate are through social media networking and online support groups (by the way, this also includes asexual, pansexual, transsexual, etc. — anyone who's not straight).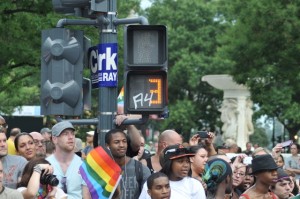 What I would love to see, someday, is a physical formation of that community… motivated to unite and brave enough to promote awareness face-to-face.  As a result, it would create tremendous potential to establish a physical organization — an organization which would focus on community outreach, and would support, promote, and advocate the rights to live an open and happy life as an individual regardless of sexual orientation, and as an individual with a disability.
I envision to bring such a group together and help them establish just that.
There's no time like the present, and we got to start somewhere.  So if you fit with these identities and live in the DC area, I am looking for you!
image sources: marcus_jb1973, Lindsey Nebeker