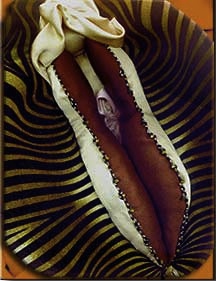 Talking about genitalia can be awkward.  So why not add a little fun and comedy to the conversation by introducing the Wondrous Vulva Puppet?
When I consult with parents and professionals who work with individuals with developmental disabilities, I always stress on how important and effective it is to teach sex education in a way that kids and adolescents will understand it best. For individuals with ASDs and developmental disabilities, it needs to be concrete, hands-on and involve a lot of visuals, and the idea is to explain these topics without having to demonstrate it yourself.  Drawings and illustrations help, but adding one or two dimensions to the traditional two-dimensional sex education teaching approach makes a world of a difference when it comes to grasping the topics.
My first encounter with the Wondrous Vulva Puppet, out of all places, was at the Autism Society of America National Conference in Dallas, Texas a few weeks ago.  I was attending a session called "Speaking Bluntly About Sex, Dating and Relationships" presented by the two co-founders of AZ ASSIST, and during the presentation, they pulled out this velvety silk puppet.  Of course, it immediately caught my attention.  I approached their table after the session to get a closer look at the fine details in the velvet and silk embroidery.  I was excited to learn more about it, so I grabbed a pen and added it to my "to Google" list.
After conducting further research, I discovered these puppets have actually been around since 1993 (click here for the story of its origin).  They are hand-made in the USA and come in a variety of colors and materials.  I would have considered owning one of these for humor and educational purposes, but the price tag is a little steep (starting at $125 US and going up to $400 US for the limited editions).  However, if you are seeking a creative teaching aid for providing sexual awareness to a female adolescent or adult, it may be worth the splurge.  Interactive and noninvasive teaching aids are key, and a teaching aid like the Wondrous Vulva Puppet is perfect for educating girls and women on female genitalia.
You can use the puppet to educate on things like…
Locating the clitoris, clitoral hood, inner and outer labia, urethra, G-spot, and vaginal opening.

Inserting a tampon.

Where a penis or dildo is inserted during sexual activity.

Other sexual activities involving the vulva: fingering, fisting, masturbation, etc.

Erogenous zones.

Kegel exercises.
Here is a fun video clip of Dr. Debby Herbenick using the Wonderous Vulva Puppet as a tool to help women learn what's "down there" during a 2007 appearance on the Tyra Banks Show:
(Note: there is a brief blackout between 2:22 and 2:27, then the video clip resumes)
Role-playing is often a great way to educate individuals with social deficits.  In some situations, role-playing involve puppets.  What's great about using puppets is that it's delivers an interactive platform to educate others without having to involve in-person demonstrations… therefore making it less invasive and less personal.  Using puppets is very effective, and "lightens the mood" for serious conversation topics, such as the anatomy.  It's quite genius, really.
Just as social behaviors have to be "learned", sexual behaviors also have to be "learned".  Just as we need to collect and develop "scripts" to learn how to behave socially, we collect and develop "scripts" on how to behave sexually.
In a 2009 interview with NYC 24, JamYe WaXman (renowned author and sex educator)  touches briefly on deciphering between fantasy and reality in sexuality, and uses her puppet to demonstrate "what you might not have learned in sex ed":
For adult women, it can serve as both an educational and empowering tool.  It's astounding how many adult women (yes, adult women) who don't know much about their own vulva.  Many admit they don't know what their own vulva looks like, because no one may have encouraged them to do something as simple as taking a hand mirror and placing it underneath there so they can study it.  Like Dr. Debby and Tyra explained in the first video clip,  many inexperienced women assume that they pee and have a baby from the same opening.  Of course, this is incorrect.  Many women also assume that their entire female genital area is called the vagina.  Of course, this is also incorrect, as the vagina is just a part of the vulva.
Over the years, this puppet has unsurprisingly gained popularity.  It was highly praised by "The Vagina Monologues" author Eve Ensler,  and it even has its own Facebook fan page.  At this rate, the Wonderous Vulva Puppet might as well create its own Twitter account.
By the way, Dr. Debby has an excellent blog on sexuality education: "My Sex Professor".  For the sex education enthusiast, I highly recommend checking it out!
Now all we need to complete this funny and awkward conversation of genitalia is a velvety silk "Wondrous Penis Puppet"…
For all purchases and orders of the Wondrous Vulva Puppet, visit www.houseochicks.com
image source: houseochicks.com