To a woman who loves to receive flowers, the message that she gives o
ff could not be more obvious.   But no matter how w
onderful a man can be, he sometimes doesn't get the message.  Here are 5 ways to tell a woman loves flowers:
1.  She collects images of flowers or sports a tattoo of a flower design.
If she walks around taking photos of flowers, compiles magazine cut-outs of flowers, or has a floral display on her computer desktop wallpaper, then it's probably safe to give her flowers.  Also, pay attention to her tattoos (if she has any).  If at least one of her tattoo designs resemble a flower, it's a safe bet she'll enjoy receiving the real thing.

2.  She places empty vases around the house.
Guys, this is too obvious.  If a woman leaves an empty vase in the middle of the dining room table and doesn't put it away, she's giving you a non-verbal message: "I would love it if you filled this empty vase with flowers."
3.  She buys flowers for herself.
When the 'empty vase trick' doesn't work, a woman will resort to another non-verbal queue: filling the vases herself.  It's not unusual to spot a woman at the grocery store or at a florist shop picking up bouquets… and sometimes (in our modern-age society) it's perfectly appropriate to do so.  However, if a woman is dating or married, it gets to be strange if she's the only one always getting them.  In short, a woman supplying the vases with flowers = non-verbal message: "I'm filling up the vases in hopes that it will encourage you to do the same for me."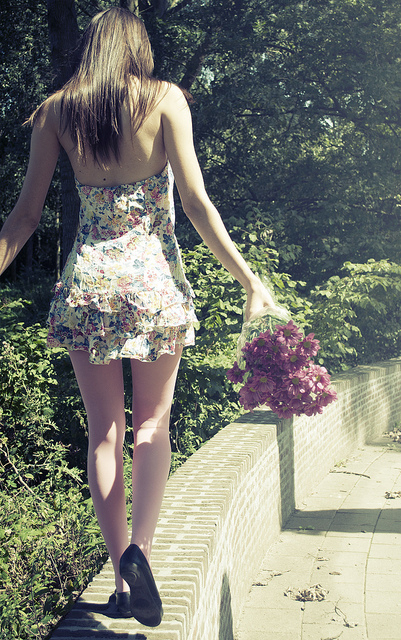 4.  She tells you or blatantly indicates to you she likes flowers.
If a woman tells you she likes flowers, she wants you to give her flowers.  What would you do if you were dating a woman and she said she liked a particular comic book?  You would consider seeking and buying her that comic book, right?  Men can sometimes be confused by the definition of what is a perfect gift for a woman.  They can often confuse the "perfect gift" with a gift he thinks she needs… and he sincerely thinks she'll appreciate it.  Not true, guys.  Go by what she tells you she likes.
Extra credit: Pay attention to what kind of flowers she talks about the most. When she points to a particular flower and says, "I especially love this kind of flower. It's one of my favorites", 'nail' that info into your memory!

5.  She gives you extra attention and praises you enthusiastically whenever you do give her flowers.
In the event that you do present her with 'floral delights', pay close attention to the way she reacts.  Does she shower you with an unusually high dose of kisses and embraces?  Does she thank you repetitively throughout the day (or days following)?  Does she develop an unusual inclination to initiate sexual activity?  Pay attention to the non-verbal underlying message she is sending you.  If she's incredibly enthusiastic and provides you with extra attention, it may be an indication that she wishes you provided flowers more often, and the extra attention (physical and emotional) is her way of encouraging you to be more consistent in giving her flowers.
In Closing…

Whether it'd be a single stem rose or an elaborate bouquet, a woman with a good heart will sincerely appreciate when you've taken the time to seek out and provide her with a gift in the hopes of bringing some joy into her day.  And if she happens to not like flowers, don't fret!  She will use similar tactics to the ones mentioned above to let you know when she wants something different, too — whether it'd be a comic book, tickets to a sports game, a fancy piece of jewelry, etc.  Except she probably wouldn't use the 'empty vase trick'…

image sources: thisistami , Bruno Dal Bó Silva