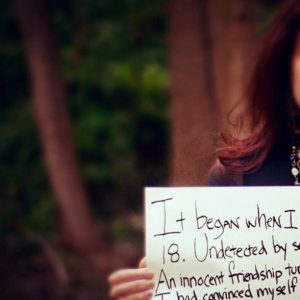 Content and Trigger Warning: The following article contains references to sexual abuse, sexual assault and sexual violence.
Imagine a deep dark secret… a secret only you or very few other people know… that you have kept locked inside for a significant part of your life. Imagine taking that deep dark secret, and letting it spill into words you write on a blank poster with a Sharpie marker.  Imagine holding up that poster… exposing your secret… with your face in full view in front of a camera… and having that photo of you published for the world to see.
This is precisely what I did a few weeks ago.
On the overcast afternoon of August 5th, I participated in a national photography project called Project Unbreakable. Project Unbreakable was founded in October 2011 by 20-year-old college student and aspiring photographer Grace Brown. To quote from the site itself, Grace "works with survivors of sexual assault, photographing them holding a poster with a quote from their attacker." Some are not necessarily quotes from their attacker. As of this writing, she has photographed nearly 200 people from several U.S. cities and hopes to expand the project internationally.
How did I get involved in Project Unbreakable?
I have actually been following this project since earlier this year, and was considering contacting Grace when she scheduled her first photo day in Washington, DC back in March.  However, I never got around to pressing the SEND button after typing my email to her.  Even though I wished I had participated in that shoot, I chose not to sweat it. I simply wasn't ready to take the leap at that point.
When the announcement was posted that they were returning to the DC area in August, I jumped at the opportunity.  By then, I was ready to reveal my deep dark secret.
Capturing the image
The timing of my appearance in the photo was certainly interesting. Around one week prior, I was lying on an ER hospital bed in San Diego, California after an episode of severe hypoglycemia during a work-related event left me fading in and out of consciousness. (My very first ambulance ride? Check.)  Through stress and lack of sleep, I had not been taking good care of myself.

At that moment, I felt vulnerable. But it was the rare instance of vulnerability that I had completely consented to. I wasn't forced to step forward. I chose to step forward. That in itself felt empowering.

"Surreal" is probably the best way to describe that 15-minute window of meeting Grace, sitting down to write on my poster, modeling the photo session, and expressing my appreciation for the opportunity. The image captures me at an authentic state of exposure, fear, liberation, uncertainty and vulnerability.  At that moment, I felt vulnerable.  But it was the rare instance of vulnerability that I had completely consented to.  I wasn't forced to step forward.  I chose to step forward.  That in itself felt empowering.
Emerging from the silence
A survivor needs to have complete control of when and how to break silence.  A survivor has the right to decide when and where to create their 'revealing space'.  A survivor needs to determine all this at their own will.
It may have happened to me over 10 years ago.  But it wasn't until early Spring 2011 when I decided to confront my past… when I began to suspect what I had experienced was very likely sexual abuse.
Anorexia, self-injury and a dependence on prescription drugs covered up the guilt and shame weaved into the immediate years after the abuse.  My personality continued to be warm and welcoming, but I developed a thicker shell — covering my soul's wounds with hair dye, piercings, and large jewelry pieces to make myself appear "tough".
I always remembered what happened, and I always knew something about that entire experience didn't sit right. But because it wasn't a black and white situation, I was not able to verbalize what had actually happened (hence the reference to "several shades of gray" I wrote on the poster). 
After a serious episode of flashbacks and violent illness, I decided to contact the local sexual assault center. The center provided me with eight months of intense counseling services, free of charge. Needless to say I was very grateful, as it helped me tremendously.  I look forward to continuing reaching out to additional support to help me in the path towards healing and recovery.
So, why did I choose to reveal my secret through this project?
Two reasons.  First, creativity is the fuel which drives my personal expression. Composing music, theatrical piano performances, and photography is how I most effectively like to make a statement.  Over the past year I have spent on this journey, I often thought about how to reveal it to my audience.  Sure, I could have written a thoroughly detailed and graphic essay.  Or I could have spilled it in a press interview. But when I ran across Project Unbreakable, it completely clicked. For me, this was the perfect way to reveal my 'skeleton in the closet'.
The prevalence of autism and sexual abuse exists. We know it exists. So why are we barely speaking on the issue?
The second reason was to contribute to a conversation the autism community really needs to amplify. The prevalence of autism and sexual abuse exists. We know it exists. So why are we barely speaking on the issue? We need to find a way to bring the conversation back to life. Even if it is to break the silence — one person at a time.
The decision to step forward was not easy. Many survivors don't ever want to believe their abusers knew what they were doing. Survivors tend to protect their abusers with excuses to ease the pain that lies within the reality.  Survivors, particularly autistic survivors, may develop deep attachments and have difficulty imagining how a person who appears friendly can have negative intent.  I have always had a tendency to develop deep attachments in which I cannot seem to detach… no matter how much pain I endured, no matter how much I have sacrificed.
What have I learned so far in this journey?

My heart has always held an intense interest on the issue and a deep empathy for anyone (especially anyone with a disability) who has survived any kind of sexual violence. Confronting my own experience has helped me obtain an even greater understanding of how autistic survivors are affected by sexual assault.  

There are several factors uniquely faced by many individuals on the autism spectrum which, unfortunately, lead many of us to being easier targets of sexual assault.  Lack of a well-rounded sex education, restricted access to effective communication, not being viewed as credible when we do step forward, and our ability to recall specific details through our unique sensory system are among the factors. These contributing factors deserve a separate dedicated article.

In recent years, there has been a slight emergence of awareness, discussion, and reports published on ASDs and sexual abuse. However, as of this writing there are still no definitive statistics in the number of autistic individuals who are impacted by sexual abuse. We do know individuals with developmental disabilities have a higher chance of being sexually violated, even though the research findings show inconsistency in its data.

Sexual abuse affects the entire lifespan of individuals with developmental disabilities, including childhood, adolescence, adulthood, and elderly life.  There are plenty of people with disabilities who don't experience sexual assault until they've reached adulthood.  There may be individuals who have been raised in healthy households and are transferred to institutions or assisted living, where they face the possibility of abuse by direct support staff.  It's important to point out that most caretakers would never sexually abuse their clients, but unfortunately it does happen.

When it comes to surviving sexual abuse, every story matters.

The truth is, I am one of the lucky ones. I was eventually able to verbalize what happened to me.

One of the greatest reasons why we need to have a conversation on disability and sexual assault is that I am convinced — damn convinced — there are more people with disabilities who are sexually violated than what gets reported. People with very limited communication or access to communication supports are by far the most vulnerable. Having grown up with a brother with autism who is nonverbal, I'm very sensitive to the rights of people who do not speak as a way to communicate.

This is not fair. We need to change this. We need to speak up, and we need to be facilitators to those who need to be heard.
In Closing…
To those of you who have been silenced — silenced by fear, silenced by shame, silenced by the barriers of communication, silenced by the threat to speak up: this does not make your story any less important. Your story is just as important as any other survivor's story, regardless of the degree or extent of your experience, and regardless of whether or not you are able to communicate your experience. When it comes to surviving sexual abuse, every story matters.
In this battle, no one wins.
But at least we are no longer silent.
Even if it is to break the silence — one person at a time.
Image credit(s): Grace Brown
To learn more about how you can participate in Project Unbreakable, or to view the photo gallery, visit: http://project-unbreakable.org/ or projectunbreakable.tumblr.com (trigger warning)